Custom cut Acrylic desk or table tops
Instead of glass, we can Laser cut clear polished edge Acrylic tops
Advantages of Acrylic
sheet vs. Glass:
Won't shatter or break like Glass.
Lighter in weight than glass, very durable.
Acrylic is very clear with no greenish tint (like glass can have).
Safer for outdoor use or antiques.
Warm to the touch unlike cold glass.
Buy a 2nd top to have as a spare at 10% off each top.
We can also custom laser etch names, logos, designs, cut out holes on the tops
Radius corners, nothing sharp, smooth edges. We add a .125 radius to all corners, but can laser any radius or make as a sharp corner if you want. We can also laser cut a hole to match your desktop cabling hole or electrical outlet.
Can be shipped to you by Fedex, unlike glass, for considerable savings. Or, easy pickup from our factory.
.220 thick Acrylic
Money Back Guarantee for 30 days. We assure the finest quality.
Protect your tables and surfaces from scratches and spills with a made to measure Acrylic desk or table top from Alpina.
Made from our Clear as Glass Acrylic, our table tops have all the aesthetic and transparent qualities of a glass table top, but are 10 x stronger and much safer, lighter, easy to lift off.
Clear Acrylic furniture tops are popular with customers of Alpina – with people using them in their homes to cover all kinds of items from desks, coffee tables, dining room tables, dressing tables and sideboards, indoors and outdoors. Won't yellow or cloud outdoors or indoors.
Because they can be polished to a high shine, clear acrylic tops also bring a little look of luxury into your home. Minor scratches can be easily removed with Acrylic polish, easily available on Amazon or other sites.
Uses:
Protect your desk or table top, dresser, coffee table, outdoor tables.
Use for teen desks to display photos, cards, under the top. Safe for teens to lift off and handle. Print your favorite photos off your phone and arrange amazing memories under your Desktopper. Print sites: www.1hourphoto.com, www.mpix.com, www.shutterfly.com, www.snapfish.com or many other print sites.
Create your own collage on an old desk or table top.
Acrylic table tops are also especially useful for events and celebrations such as birthdays, weddings, Christening receptions, Christmas and New Year when the table is a key focus – dressed to impress, adorned with arrangements and decorations.
Acrylic can also be used as protection for outdoor furniture. Most wood and metal garden furniture requires some maintenance cleaning every year and protection throughout harsher winter weather. An Acrylic table protector on the other hand, should help to make your cleaning maintenance a little easier when the time comes to do that. Won't yellow or cloud in the sun, guaranteed.
(IMPORTANT) Measure the correct acrylic size
Common table or desk edge shapes:
The acrylic size you need is determined by the flat surface area of your furniture. See drawings for examples of where the flat surface typically ends in relation to the edge detail. It is very common for customers to measure larger than they need. We recommend stopping 1/16" short of the edges. It's better for the top to be a little smaller than too large.
Measure both sides of the furniture surface along the length and width from edge to edge of where you want the acrylic to be. Measure to the nearest 1/16".
CORNER RADIUS CHART
Standard radius provided on a square or rectangular tops is .125 ̋ or 1/8 ̋
If you don't want the standard .125˝ radius, choose a custom radius from the chart below that most closely matches your radius, and select in the pulldown in the order cart.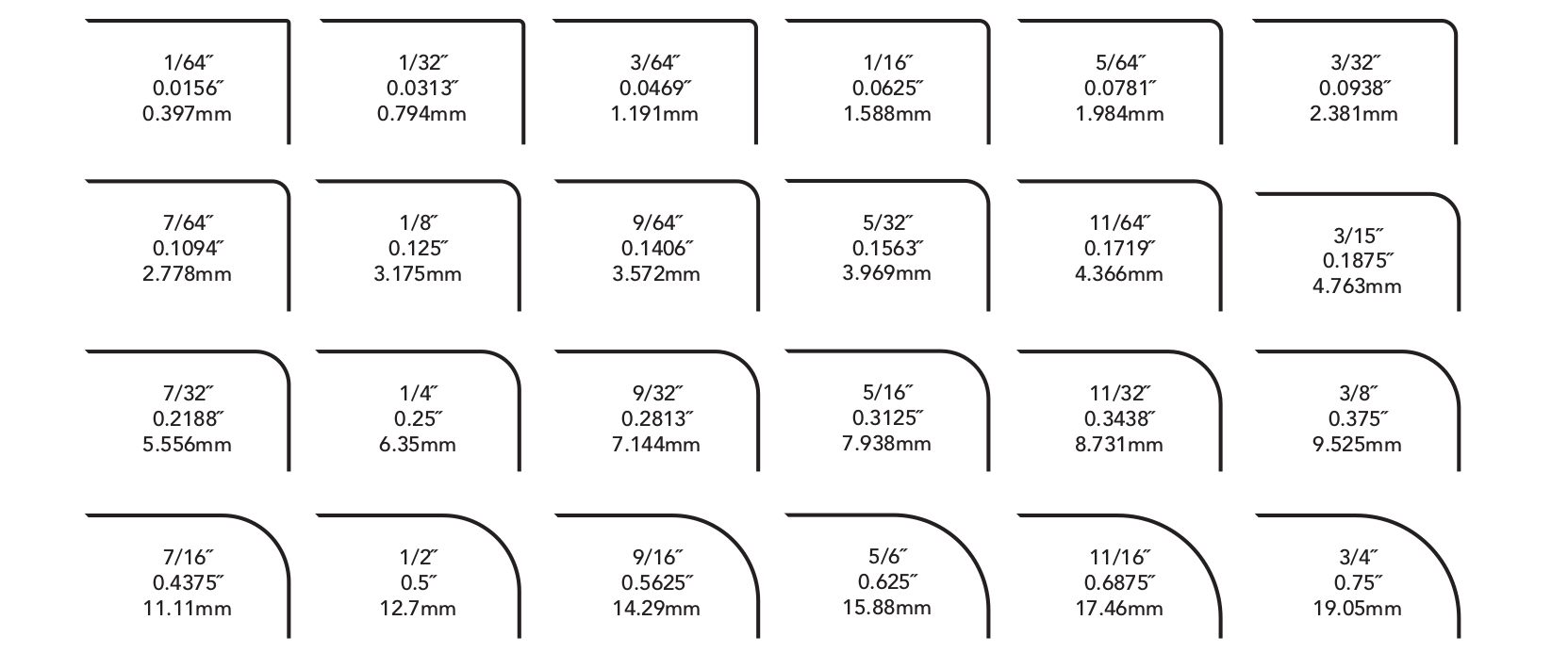 After printing out this sheet, using a ruler or tape measure, check to see if your ruler basically matches the length of the black lines shown for "1 inch" and "2 inches." This will then indicate a correct radius shape above.